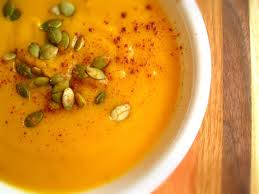 I have this strange idea that if you make it yourself and use whole, fresh ingredients, are mindful of portion size and enjoy each bite fully, oh and practice yoga, you don't have to worry about silly little things like calories or fat content. My motto: know where it comes from, make it yourself, and enjoy. Remember:
Food that is loving prepared tastes better and satisfies longer.
Most of these single recipes could last you a whole week. The soups can be frozen. 
Fall Squash Soup
Ingredients Cinnamon croutons 1 medium butternut squash (or seasonal squash) peeled, seeded, cut into chunks 2 tbs olive oil 1 tbs butter 2 large onions diced 6 gloves garlic diced 1 cup white wine or water 8 cups chicken stock 2 sausages (chorizo, andouille) depending on preference 1 tbs Worcestershire sauce 1 tbs cayenne pepper 2 tbs fresh thyme (or dried, adjust accordingly) 2 tbs fresh oregano (or dried, adjust accordingly) Salt to taste Fresh ground pepper to taste
Preheat over to 350 degrees. Toss squash to coat in olive oil and roast 30 min. Heat butter in large stockpot over medium-high heat. Add onions and saute until tender and browned about 20 min - the longer and slower you cook the better - you need enough heat to golden brown.  Add squash, garlic and wine/water and cook at high heat until reduced by half, about 10 min. Add stock and bring to a boil, cover and reduce heat to low, simmer for 15 min. Meanwhile, in another pan, cook sausage until browned over medium high heat (the higher heat seals in the favor). Puree squash/stock mixture and return to stockpot. Stir in sausage, Worcestershire sauce, cayenne, herbs, and season with salt/pepper to taste. (I like lots of pepper and the best salt.) Serve in soup bowls, garnish with cinnamon croutons.
Cinnamon Croutons
Ingredients 1/2 cup butter 3 tbs brown sugar 1 tsp cinnamon 1/2 tsp cayenne 1 small loaf of sourdough cubed
Preheat oven to 375 degrees. Melt butter in a small saucepan over medium heat. Stir in butter, cinnamon and cayenne and cook until bubbly and the sugar has fully melted, 2-3 min. Toss with bread, spread on a baking sheet and bake for 30 min.
This recipe is modified from the original source: Caprial's Soups & Sandwiches
Time: 1 - 1 1/2 hours

10 Hour Chicken
A great recipe that you can prep in the am, be gone all day and eat when you get home. Perfect for a full day of errands, work, apple picking, or yoga teacher training.
Ingredients 1 whole organic chicken (washed, dried, and scrubbed with corse salt) 1 lemon halved Salt/Pepper 1/2 bunch of thyme 1/2 a head of garlic
Use a crockpot on low. Generously sprinkle with salt/pepper. Tuck thyme, lemon halves, and 4 cloves of garlic in the cavity of the chicken. Place the remaining garlic around the pot. Cook for 9 1/2 hours. Preheat the over to 400.  Put the chicken on it's back (breast side up), sprinkle with more salt/pepper and roast the chicken until it is crispy (25 min). Let is cool. Carve and enjoy. PS: Don't turn off the crock pot! You can also cook this in the over at 200 degrees, cover with aluminum foil.
Time: 10 hours
Original Source: My Father's Daughter by Gwyneth Paltrow

Mama Leone's Chicken Soup
This recipe comes from my favorite blog of the moment: RestoredStyle.com
You can freeze half the recipe and save it for days when you don't feel like cooking (if you ever have one of those days!)
Time: 45 min

White Bean Soup
Yum, easy, nutritious and satisfying. I usually have all these ingredients on hand.
Ingredients 2 tbs olive oil 1 fennel bulb (thinly sliced) 1 large yellow onion (thinly sliced) 2 garlic cloves (thinly sliced) Pinch of red chile flakes 1/4 tsp dried oregano 1/4 teaspoon ground black pepper 2 14 oz cans of cannelloni beans, rinsed, drained 2 pints stock (vegetable or chicken) 1 bunch of kale several slices of good crusty bread toasted 1/2 cup of Parmesan cheese (grated)
In a large stock pot, heat olive oil over medium heat. Add fennel and cook for 10 min, stirring occasionally. Add onion and garlic, turn the heat to low and cook for 30 min, stirring occasionally until the vegetables are soft and sweet. Add chile flakes, oregano, and pepper, cook for a minute. Add beans and stock, bring to a boil, lower to a simmer, add salt to taste and let cook on low for an hour. Then add kale. Meanwhile, preheat the broiler to high. Ladle the soup into individual bowls, float the bread and top with cheese. Put the bowls in the broiler until the cheese is bubbly. 3 min at the most should do it.
Time: 2 hours

Chicken and Dumplings
Holy Chicken! So good. If you have a long rainy afternoon, this recipe is for you. My Louisville based Southern Grammie would have been so proud.
Ingredients 1 organic whole chicken Corse salt/pepper 1 tbs butter 2 tbs olive oil 1 stock celery, chopped 1 large carrot, chopped 1 small leek, chopped 1 slick bacon, diced 1 dried bay leaf (dried) 1 tsp fresh thyme 1/2 cup white wine (you can drink the rest of the bottle while cooking and eating this!) 2 cups vegetable stock 2 cups water 1 cup all-purpose flour 1 tbs baking powder 1/2 cup half and half (make it a big 1/2 cup) 1/2 tsp fine salt Fresh parsley for garnish
Preheat the over to 400 degrees. Wash, dry and salt scrub the chicken and cut into 10 pieces. (This is not that hard to do, but it takes some time, especially the first few times. You can purchase a chicken cut up or ask the butcher to do it (those Whole Foods guys are awesome!), you can also reference the Joy of Cooking. I do this whenever I have a question that my mom could have answered. Cutting up a chicken really gets you in touch with the animal and gives you time to give proper thanks.) Aggressively season with salt/pepper. In a large oven safe pot with a lid, heat the butter and olive oil over medium-high heat. Thoroughly brown the chicken pieces 8 min per side and remove to a plate, leaving the fat in the pot. Add vegetables, bacon, bay leaf and thyme to the pot and cook for 15 min over medium-low heat. Return the chicken to the pot. Add white wine, bring to a boil for 2 minutes. Add stock and water, bring to a boil and season with salt/pepper to taste. Turn off the heat, cover the pot with a circle of parchment paper, and put the lid on. Cook at 400 degrees for 1 1/2 hours. Meanwhile, combine flour, baking powder, half-and-half, and salt together in a bowl. Take the pot out of the oven, discard the parchment and scoop large spoonfuls of the dumpling mixture on top of the chicken (about 10 dumplings). Cover the pot, put it back in the oven, and cook for another 10 minutes. Sprinkle with parsley and a bit more ground pepper. Serve immediately (with the rest of the wine) and plenty of juices. Oh man!
Time: 2 1/2 hours
Both of these are from Gwyneth Paltrow's My Father's Daughter and both are so delicious.