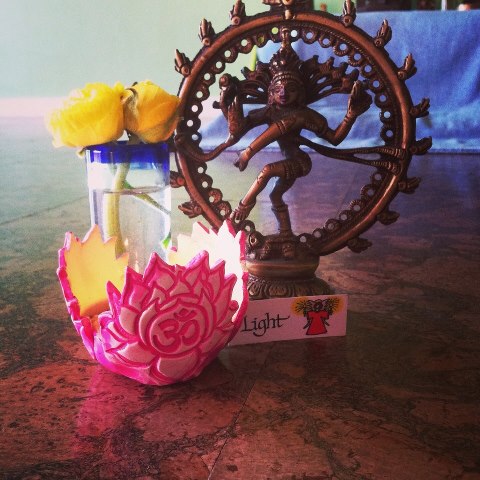 Vernal Equinox and Navaratri: Spring is in the air! -by Alessandra Pecorella

In coincidence with the vernal equinox (the arrival of Spring, literally when night and day have equal length) we also have the occurrence of the Hindu festival Navaratri, literally 9 nights , celebrating Shakti in her manifestations as Durga, Lakhsmi and Saraswati.
During the calendar year Navaratri is celebrated 4 times, corresponding to the change of the seasons (equinoxes and solstices). This is a time to profoundly reconnect with the Motherly Energy of the Earth, Shakti, the power lying at the base of the spine and in the very core of the planet. It is a time for reflection, cleansing, meditating , releasing the past and planting new seeds for the future. The festival of Navaratri is closed by a tenth day of music , parades and dancing to acknowledge the victory of Maha Shatki (the divine feminine energy).
Living Practices to tangibly reconnect  this time of year. Fasting in a way that is appropriate for your system is also traditionally part of Navaratri. Kirtan for the divine mother. Chanting  18-27-54 or 108 rounds for the different aspects of the Goddess, while meditating within your heart upon : Om Dum Durgayai Namaha, Om Shrim Maha Lakshimaye Namaha, Om Aim Saraswataye Namaha Days 1-3 Purification of Inner and Outer Obstacles on the Spritual Path (Durga Shakti) Days 4-6 Worshiping the Healing Beauty and Abundance of Maha Lakshmi Days 7-9 Awakening the Divine Wisdom and Creativity of Saraswati Ma Day 10 Victory of Shakti
Hope you can find the space and time in your Sadhana to appreciate this transition in divine tune with the Earthly energy.
Reposted from 2012